B2B Marketplace Development
ECZA1 Renews Its Digital Infrastructure to Become Turkey's Largest Marketplace for Pharmacists
Ecza1, one of Turkey's largest pharmacy marketplaces, wants to boost the quality of its services and attract new customers. For this, they chose Interval, which provides customized solutions for developing real-time systems with a high number of transactions.
Ecza1, which has completed a digital transformation involving the renewal, improvement of the marketplace, and implementation of business processes, has a B2B Market Place website that offers the best user experience and functionality.
Ecza1 is one of Turkey's largest B2B marketplaces dedicated to non-pharmaceutical products, to which pharmacists working in the public, private sectors, and pharmaceutical warehouses are members.
Ecza1 welcomes its members through the www.ecza1.com website with the condition of a GLN number. They enable thousands of pharmacists across Turkey to exchange their non-pharmaceutical products with each other at the most affordable prices.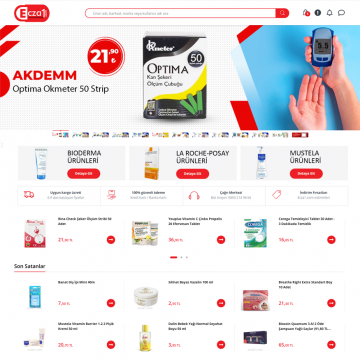 Need for Infrastructure with Maximum Quality of User Experience, All Integrations Completed and Responding to High Real-Time Transaction Numbers
ECZA1 Co-Founder Koray Karamanlı says they were searching for a reliable shopping environment on their platform because of the disruptions caused by the marketplace infrastructure they set out initially.
"As a result of our efforts, we managed to register nearly 3000 users on our platform in a short time. But in the first six months of our activity, we observed that our existing infrastructure could not respond even to the traffic on our website, and it often crashed. In addition, the lack of multiple shipping, e-invoicing integrations, the absence of a back-end reporting module, and the difficulty of registering on the site both created dissatisfaction with our users and created problems in attracting new customers.
It also brought extra workload to our employees and caused errors. For this reason, we made a radical decision at the beginning of the road and agreed with Interval to renew the entire system. Since our agreement with Interval, our number of customers and turnover have increased exponentially. It is not a coincidence that we provide high-quality service and high satisfaction to our users, but a success story written with an expert solution partner. The decision to completely renew the Ecza1 infrastructure came about due to many problems such as crashes caused by poor quality coding, many security vulnerabilities, reporting difficulties, lack of integration. Smart Search engines with better functionality and detailed filtering features were critical needs to satisfy users.
"Interval ensured that our service quality reached the best level we and our customers expected by producing custom solutions and continues to do so." – Koray Karamanlı | General Manager of Ecza1
Why did Ecza1 choose Interval?
While Ecza1 continued to work despite the existing infrastructure problems, Interval started a digital transformation by producing many specific solutions at the back end side by racing against time. Then they designed a website with a maximized user experience suitable for desktop and mobile use and satisfied all needs.
What's New in the "Content Management System"?
The infrastructure and architecture of the site (Front end, back end, database) are completely renewed. (C#, ASP.net, HTML5, CSS, JavaScript)
Renewal of Infrastructure & Architecture 
The registration process with the GLN number is now integrated with the Ministry of Health. Thanks to this, the manual control operation of the call center employees was eliminated.

Integration with Ministry of Health
Multiple courier companies integrated. Previously, there was only one courier company choice in the system, and users could not work with other possible courier companies they already agreed.
E-invoicing & e-billing integrated. Thus, the manual billing & invoicing operations is now eliminated.
Integration of Multiple Courier Companies
Integration of e-Invoicing & e-Billing
Other Improvements in CMS
Product details such as product cover, product price can be easily changed through the admin panel. Thus, extra workload and errors are prevented.
Easy entry of vendor data is provided through the admin panel. Previously, the data entry process was not dynamic, and it was complex.
Campaign module integrated. Thus, it is now possible to carry out sales-increasing campaigns.
Reporting module integrated. There are no more difficult report retrieval operations carried out manually with queries.
What's New in the "User Interface"?
The difficulties associated with becoming a new member were removed. On a single page, a simple, user-friendly form interface was designed. Users now have quick and easy access to products thanks to our cutting-edge technology smart search engine.
The front end was designed to be mobile-friendly, creative, and to give the best user experience possible.
The menus are redesigned, and a user-friendly category tree is developed. Simple and stylish product are now displayed in categories as a result of standardized products.
Thanks to the standardized products in the system, the most affordable seller, the number of stocks, and the product expiry date can all be viewed through product search.
Seller's Page for a Specific Product
When the seller's product is displayed, other possible sellers can still be found on the same page. Furthermore, information such as the seller's score and the courier companies with which the seller works are easily accessible.
Seller's Product Details and Other Sellers
"We began the process of building the infrastructure from scratch, and we intend to keep improving it. To Interval, we owe gratitude for helping to build our reputation as a trustworthy marketplace with outstanding features."
– Koray Karamanlı | General Manager of Ecza1
Fully Integrated Marketplace – "Accounting, Shipping, Ministry, and Campaign Module Integrations."
Smart Search Engine – Recommending Best Price Seller Alternatives in Seconds.
"Brand New Design, Easy Access, Fast Shopping" results in a better customer experience.
Admin Panel with Maximum Efficiency – "Faultless, Fluent, Easy System Management."
Growing sales as a result of increased member and brand awareness.