İSTANBUL AVIATION • PHASE 1
ERP & Web Portal Development
ISTANBUL AVIATION performed its Digital Transformation with Flight School Enterprise Resource Planning (ERP) Software and Web Portal
Istanbul Aviation, one of the first pilot training center in Turkey, aims to ensure the systematic management of their business by a complete digitalization and managing student affairs through a web-based portal integrated with ERP solution.
For this, Istanbul Aviation preferred to work with Interval for their expertise in ERP, CRM, E-commerce, and custom software development processes for complex organizations in various industries.
Who is İSTANBUL HAVACILIK® ?
Istanbul Aviation Club, one of Turkey's first pilot training centers, is among the leading schools in the civil aviation industry with more than 30 years of experience. As of 2020, in order to provide a more comprehensive service to Aviation, it was incorporated into a corporate formation and was named "Istanbul Aviation" (İstanbul Havacılık).
Istanbul Aviation, which has been acting in order to train qualified pilots since its establishment, offers all trainees international quality and universal education. Our experienced trainers, who have proven themselves with their reliability and experience, provide service in Istanbul Aviation, which has educated hundreds of pilots to Aviation since 1986.
Inability to Manage Future Resource Planning and Business Strategies Correctly Due to Business Operations Managed by Classical Methods
ISTANBUL AVIATION used to record flight school operations with office tools consisting of text and tables, physical documents, and local software.
This classical methodology, which started from the registration stage of the trainees, made it very difficult to correlate the processes from training, flights to financial operations. The difficulty of tracking the process and the fact that the records were prone to errors put the financial statements at risk of being composed of correct data.
In addition, the lack of a systematic tool for trainees and flight instructors to follow the training process online harmed the brand reputation.
– Conventional Methods for Documentation –
In summary, operational business processes managed using conventional methods were open to human mistakes and not handled systematically, resulting in labor, time, and revenue losses. Because of improper reports; resource planning and company strategies were not accurately manageable.
"From our employees to our customers, we wanted to increase satisfaction level with a total quality approach. For this, we set out to ensure that the activities of our center are at maximum speed, traceable, efficient, and systematic."
– Cem Tepsi | İSTANBUL HAVACILIK General Manager
Why did İSTANBUL HAVACILIK choose Interval?
Cem Tepsi, General Manager of İstanbul Havacılık, states that the essential need of the center is Digital Transformation.
"From the moment we register our trainees to our flight school, we need to manage the planning of our theoretical lessons and flight training, as well as our HR processes and exam organizations with the help of software. In addition, it became a priority to accurately account for all activities and ensure that they are reflected in our financial statements quickly. For this reason, we sat at the table with Interval to implement the solution we expected. The result is beyond our expectation…" says Cem.
– Flight School Management Software-
Steps of Digital Transformation
In the back end side, an ERP system with high-level functionality according to the needs of all departments, including all processes from Human Resources to Flight Planning Module, from Exam Management to Training Management Module, was developed.
ERP Management (Back Office)
Profiles of trainees and trainers are recorded in a digital database instead of physical and external documentation. The trainee registration documents are archived in the digital database and quick access is provided when necessary.
Theoretical training is planned on the system.
Flight training is planned including aircraft, instructor assignments, and time reservations. All relevant parameters, from flight training category to flight and fuel planning, are tracked.
– Flight Planning / Planned –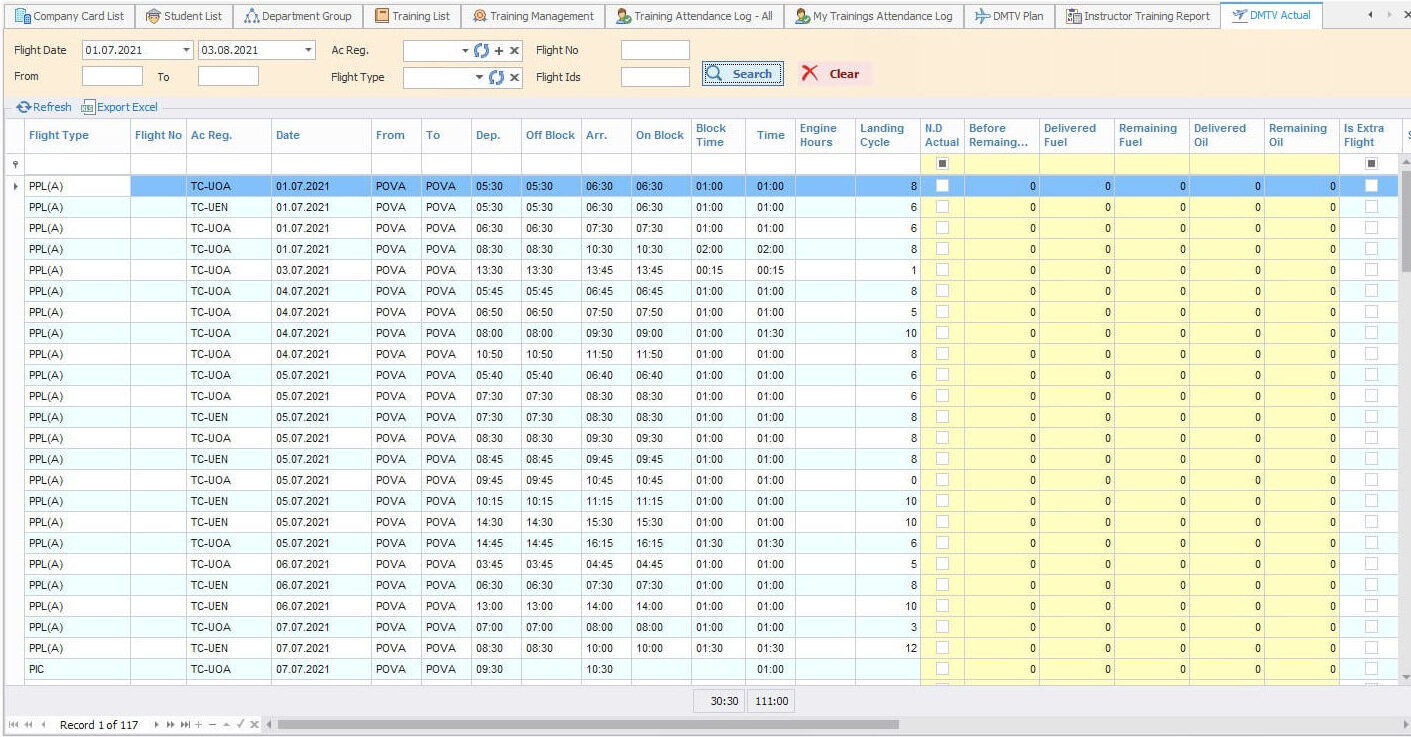 – Flight Planning / Realized – 
The attendance of the trainees at the training is reported. In this way, difficulties of follow-up and announcement steps for the training programs are eliminated, and the entire training process is completed systematically.

İstanbul Havacılık | Web Portal
On the front end side, a custom web portal was created for trainees and trainers. Trainees logging into the portal can now follow the entire training planning up-to-date.
Furthermore, flight instructors can document critical information such as attendance reports and grades of students through the web portal, and make the organization for the flight.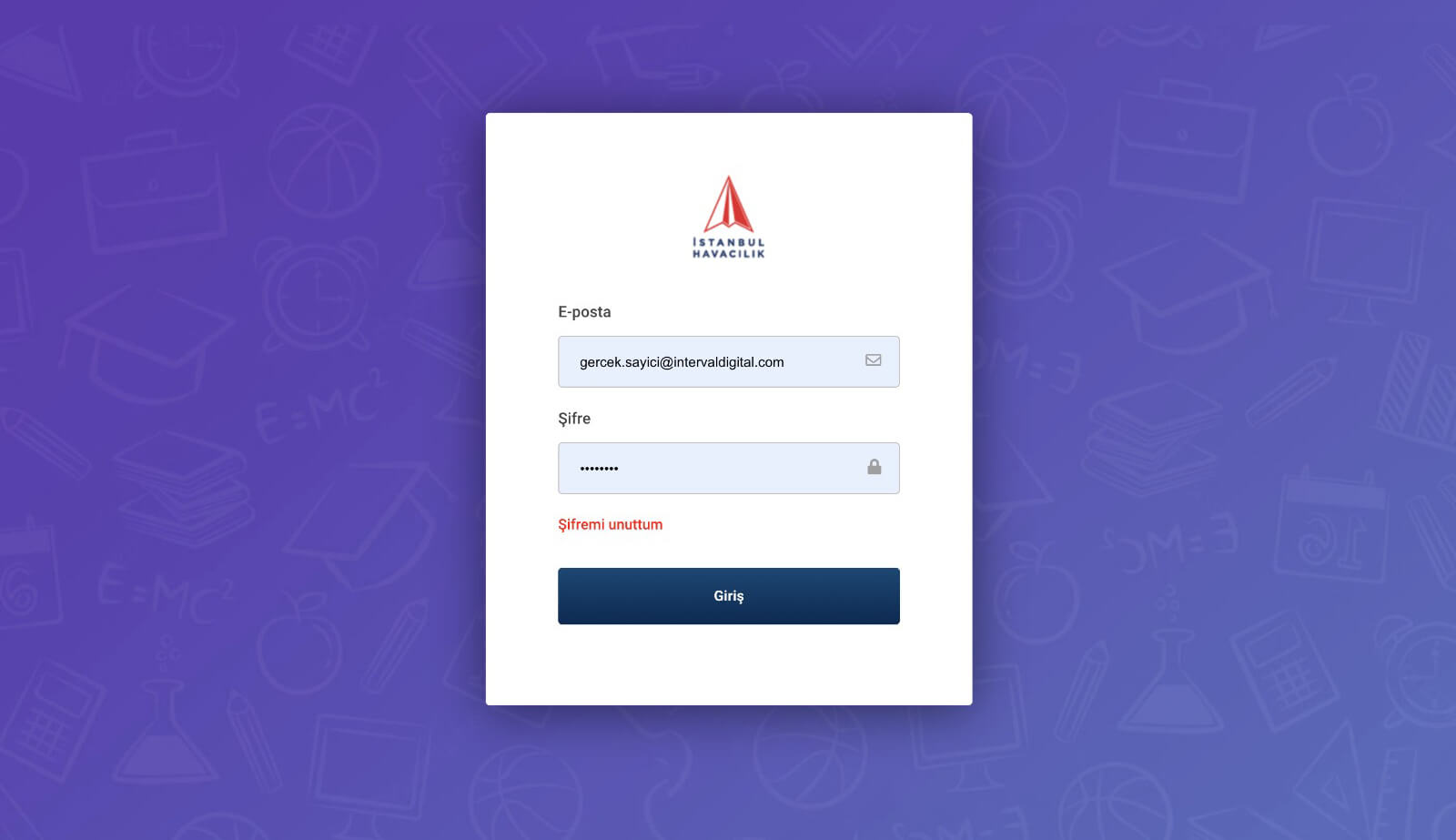 – Login Through Web Portal –
Training Center managers can view "Announcements and Events, Flight Training Records, Attendance, Exams" on the panel.
Instructors can make training organizations and transfer their attendance and exam evaluations to the database through the web portal.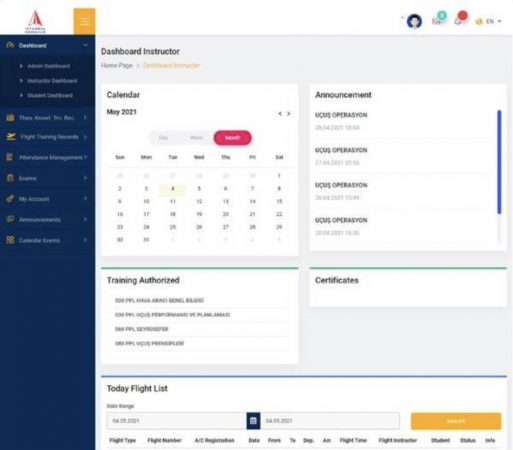 – Instructor Web Portal –
Personal data, training attendance, and exam organizations of the trainees are also accessible by trainees through the web portal.
– Eğitim Planlama Web Portalı –
"It is valuable for us to see that our brand has gained the reputation it deserves with the feedback we received from our customers shortly after the project implementation."
– Cem Tepsi | GENERAL MANAGER of İstanbul Havacılık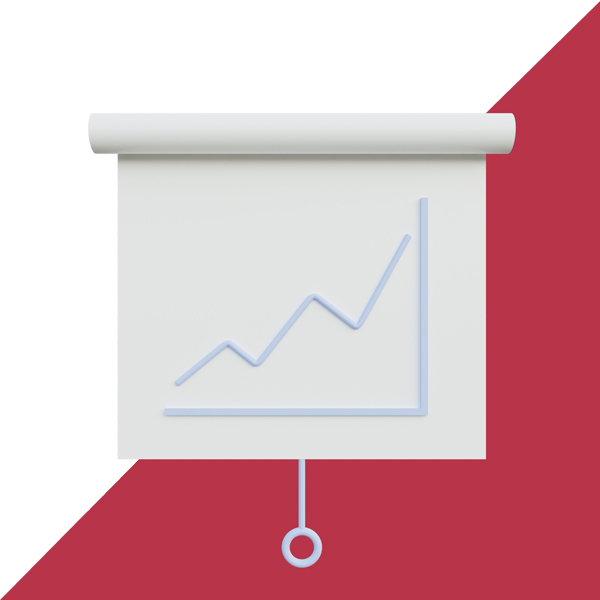 Custom Flight School Management System and Web Portal
100% Digitalization of Physical Records – "Time-saving by eliminating error-prone, duplicate recording operations."
80% Workforce Saving – "Operations performed with 2 employees instead of 10″
Accurate Cost Calculation – "Manageable Company That Can See Its Profitability."
Increased Brand Reputation – "Raising the brand image with the positive effect of the Training Management System on the Trainees."